MultiGreens Capsules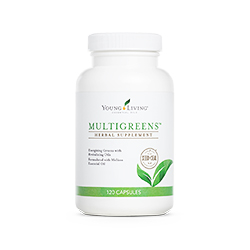 About the Product
MultiGreens™ is a nutritious chlorophyll formula designed to boost vitality by working with the glandular, nervous, and circulatory systems.* MultiGreens is made with spirulina, alfalfa sprouts, barley grass, bee pollen, eleuthero, Pacific kelp, and therapeutic-grade essential oils.
Price
Retail: $53.95
Wholesale: $41.00
YL Product #: 3248
How to Use
If you have a slow metabolism, take 3 capsules two times daily. If you have a fast metabolism, take 4 capsules once or twice daily. Best taken 1 hour before meals. For stomach sensitivity, take with meals. Keep in a cool dry place. Do not expose to excessive heat or direct sunlight. If pregnant or under a doctor's care, consult your physician.
Why pay retail?
Save up to 24% with Wholesale Pricing!
Did you know you could save up to a whopping 24% on your purchase by becoming a Young Living Member?
What does it mean to be a member? Well, it doesn't mean you are committing to purchase month after month after month. It doesn't mean you are now a salesperson with a quota. What a membership does mean is that you have the ability to purchase a great set of starter oils and you get to make all future purchases at a great discount! It also means that once you fall in love with Young Living products, like I did, you will have the option to tell others about them AND receive a commission check on their purchases!
Ready to sign up? Need to learn more? Click below! Want to just purchase retail for now? No problem! There's an option for that below too!